A Technical View on the Solid Ecosystem
Solid: a decentralized Web ecosystem
Decouples data from application

Personal data pods → control

Collection of open Web standards
Solid combines several Web standards
Linked Data Platform

Reading and Writing over HTTP

WebID-OIDC

Authentication

Web Access Control

Authorization

Linked Data Notifications

Sending and receiving notifications
Reading and writing over HTTP
Pods can store RDF and non-RDF files

JSON-LD, Turtle, HTML+RDFa, ...




Binary data, raw text, ...

Read and write via HTTP methods and content-negotiation

GET, POST, PUT, PATCH, DELETE


PATCH: SPARQL update queries

Directories represented by LDP Basic Containers

Enables Linked-Data-based directory content discovery
Users are in control of their own identity
WebID: a dereferenceable RDF Web resource

https://rubensworks.solid.community/profile/card#me


Profile contains basic information: name, image, ...

Identity provider authenticates WebID

WebID points to an identity provider server (!= pod server)


→ Different identity providers exist
Logging in to a Solid app
Select an identity provider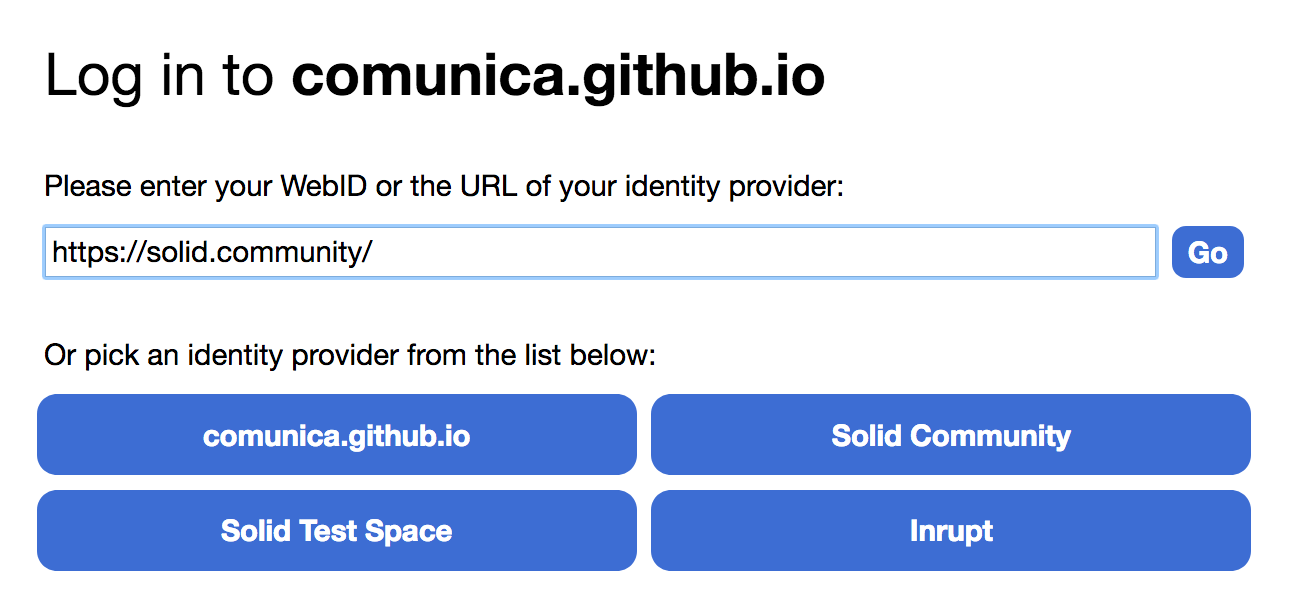 Logging in to a Solid app
Logging in at the selected identity provider

Fine-grained access control to data
Each file has a corresponding Access Control List (ACL) file

Describes who (WebID) has access to the resource, and the modes of access.

Different modes of access

Read, write, append, control
WAC: https://alice.inrupt.net/file1.acl

@prefix  acl:    .

<#authorization1>
    a             acl:Authorization;
    acl:agent     <https://alice.inrupt.net/profile/card#me>;
    acl:accessTo  <https://alice.inrupt.net/file1>;
    acl:mode      acl:Read, 
                  acl:Write, 
                  acl:Control.
        
file1.acl defines access for file1.
Alice has Read, Write and Control rights.
Sending notifications across pods
Other standards
API for real-time resource notifications

Authentication using TLS certificates
Summary
Solid aims to re-decentralize the Web

Decouples data from applications

Solid is not a tool, but an ecosystem

A collection of open Web standards (LDP, WebID-OIDC, WAC, LDN, ...)

Tools and libraries implement these standards

Node Solid Server, Solid React SDK, ...
Solid server API is relatively simple
→ Client-side Solid apps must be smart
Hypermedia-based apps

Discover files in containers, links to relevant files, ...




Reusable libraries exist: SPARQL, GraphQL, ...

Queries as abstraction layer

Allows apps to be query-driven




Reusable client-side query engines handle complexities


SPARQL, GraphQL, LDflex, ...